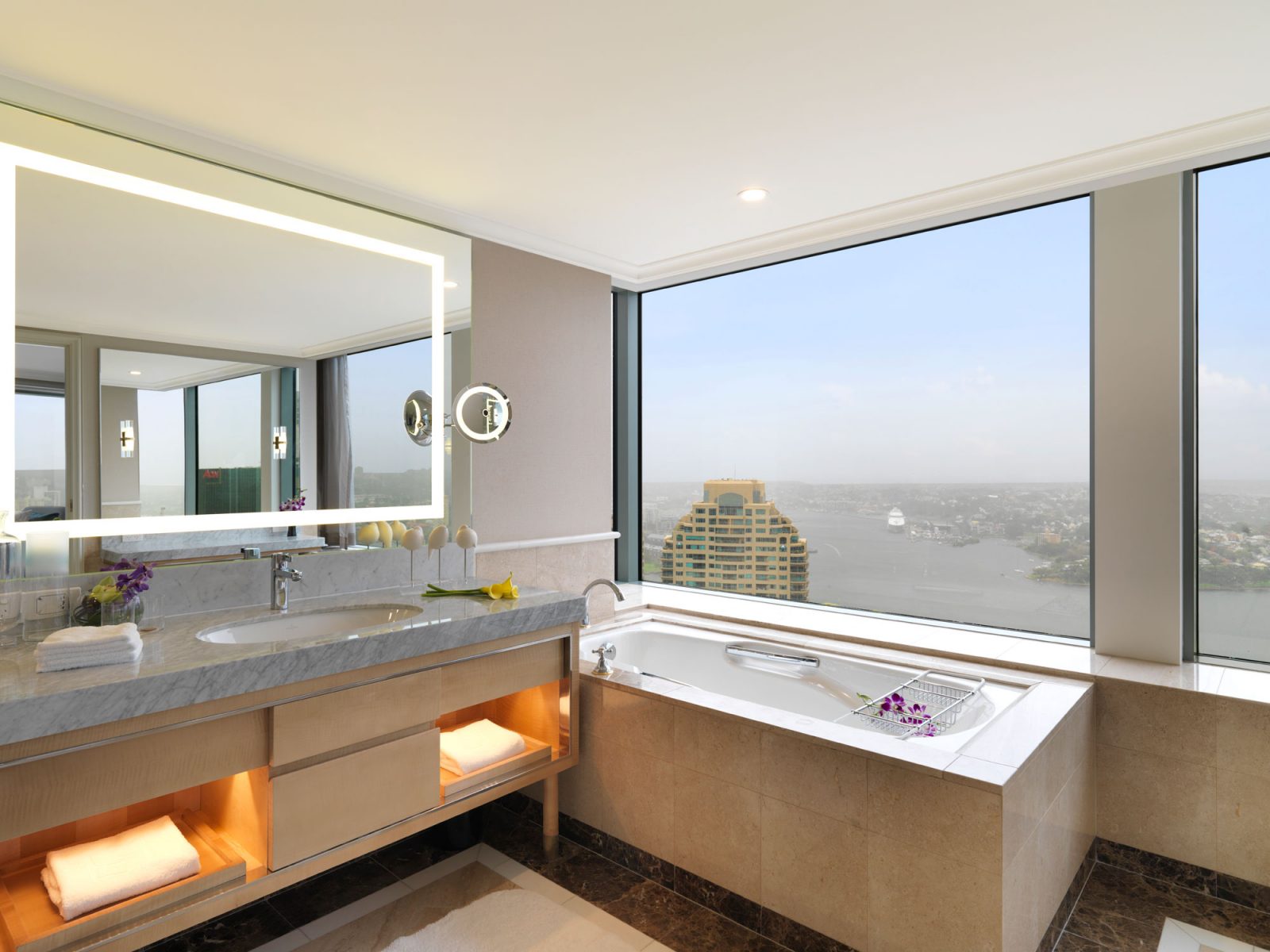 Shangri-La Sydney 5-star Hotel Refurbishment.
We got some great exposure at  the home show in June 2014. We had put over two years of research and development into our illuminated bathroom mirrors, culminating in a state of the art product, right at the time these type of mirrors came into fashion in Australia.
Aside from the sales we made at the Home Show, in August we received a phone call from Tony Lisicic, the Project Manager for the refurbishment of the Horizon Club, occupying the top 6 floors of the Shangri-la Hotel at The Rocks in Sydney. He was looking for someone to supply 86 illuminated mirrors for the project and time was running out. We were ready. A week later we arrived in Sydney with our 1.5m x 1.2m prototype and duly impressed a room full of designers, architects and hotel hierarchy. When you live and breathe and 'grow' something for two years it is amazing how much knowledge you have on the subject. It wasn't just the product that impressed, but as the designers, we were able to answer the questions on its components, features and on possible variations that the creative minds in the room were coming up with. That went well. We now had 4 weeks to produce the 86 mirrors.
Each mirror went though a quality control check, if it had the slightest imperfection it went back out to the factory floor before it was packed onto the truck.
We drove to Sydney to deliver them. We trusted no one with that task, nor the installation. We rented an apartment nearby in the city for 3 weeks and walked to work – that was on the top of the world, 35 floors above the beautiful Sydney Harbour in all its splendour.
I wish we could have gotten more photos but the mirrors reflected half built rooms and being perfectionists we thought we would leave the  photography to the professionals. 
We finished our part in the project ahead of time. 
We know the Shangri-La is more than happy with our efforts as we have been given the task of supplying another 36 illuminated mirrors for the Shangri-La Hotel – The Marina – Cairns, due to be completed in June 2015. That will mean having to spend a couple weeks in Cairns at the best time of year installing our mirrors. Better make that three weeks!
Regards, Clearlight Designs